In our busy lives we often forget to check in on ourselves and sometimes it can lead to a downward emotional spiral.  Here is something I'd like to share with you all in this week's eBulletin which talks about knowing how to detect the signs of stress in yourself and learning how to redirect your effort towards positive strategies to help you cope. It's simple, clear and includes dot points.
Knowing to identify signs of anxiety or stress is important but can be difficult when work and the needs of others are your focus.
I hope this helps those who are feeling like they are struggling to be their best selves under the current circumstances. The uncertainty of protracted lockdowns, home schooling, caring for aged parents and loved ones, dealing with angry patients, working months on end without a break will take its toll on anyone.
Stay safe and take care,
Magdalena
---
Could the ways you cope with stress be undermining you? Here are healthier ways to respond (EXTRACT)
(original article: https://ideas.ted.com/coping-strategies-stress-anxiety-negative-positive-ways-to-cope/)
When you are anxious or upset what do you typically do to calm yourself? Without overthinking, read through the following common negative coping techniques. Which are familiar to you?
Negative Ways to Cope
• Use or abuse alcohol or drugs
• Act violently toward others
• Act out or misbehave on purpose
• Avoid conflict
• Rationalize or blame others for your problems
• Deny there is a problem
• Repress or forget what has happened
• Behave like someone you are not
• Disassociate yourself from a situation
• Exhibit controlling behavior
• Become a workaholic
• Isolate yourself and withdraw from activities and others
• Feel like you need to control or manipulate others
• Refuse to communicate
• Fantasize regularly
• Catastrophize
• Help others over helping yourself
Next, go through the list of positive coping techniques — these are beneficial ways of managing anxiety.
Positive Ways to Cope
• Name your feelings, positive or negative
• Control your anger
• Practice self-reflection
• Seek support from friends and family
• Communicate or talk about your feelings
• Exercise
• Participate in hobbies and/or sports
• Spend time outdoors
• Consider a situation from another point of view
• Remain flexible and open to new ways of thinking
• Keep a journal or engage in another form of conscious self-reflection
• Spend quality time with family, partner, friends
• Use positive self-talk and affirmations
• Meditate or pray
• Clean or organize your workspace or home
• Seek support from a health professional when you need it
• Playing or being with a pet or children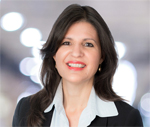 Magdalena is the President of the AFMW (2020-) and former President of VMWS (2013 & 2017-2020), National Coordinator AFMW, MWIA Scientific and Research Subcommittee co-Chair, MWIA Mentoring and Leadership, Special Interest Group, Chair
Magdalena's deep engagements with the RACGP over many years includes chair of Women in General Practice, is currently on the RACGP Expert Committee Quality Care, prior to that on RACGP eHealth Expert Committee. She is a regular media spokesperson on numerous health issues, being interviewed most weeks by mainstream and medical media. Magdalena has represented the RACGP at senate enquiries and has worked on several National Health Framework reviews.
Both an RACGP examiner and University examiner she supervises medical students and undertakes general practice research. Roles outside of RACGP include the Strategy and Policy Committee for Breast Cancer Network Australia, Board Director of Women's Health Victoria and Chair of their Strategy and Policy subcommittee and the AMA Victoria GP Network Committee.
Magdalena has presented at the United Nations as part of the Australian Assembly and was recently appointed the Australian representative to the World Health Organisation, World Assembly on COVID 19, by the Medical Women's International Association (MWIA).
A/Professor Simonis is currently a member of the National COVID-19 Taskforce expert committee, and Chair of the MWIA Mentoring and Leadership Special Interest Group.