In this  'WebMD Medscape' article originally published 09 February 2023, the authors that for years, women's health advocates have argued that far more research is needed on women's bodies and health, and the world's first-ever "vagina on a chip," recently developed at Harvard's Wyss Institute for Biologically Inspired Engineering, could go a long way to making that happen.
---
WebMD Medscape – 'Scientists Create 'Vagina on a Chip': What to Know'
For years, women's health advocates have argued that far more research is needed on women's bodies and health. The world's first-ever "vagina on a chip," recently developed at Harvard's Wyss Institute for Biologically Inspired Engineering, could go a long way to making that happen.
"Women's health has not received the attention it deserves," says Don Ingber, MD, PhD, who led the team that created the vagina chip. The advance quickly drew media attention after it was reported in the journal Microbiome in late November. But researchers hope for more than headlines. They see the chip as a way to facilitate vaginal health research and open the door to vital new treatments.
By now, you may have heard of "organs on chips": tiny devices about the size of a flash drive that are designed to mimic the biological activity of human organs. These glass chips contain living human cells within grooves that allow the passage of fluid, to either maintain or disrupt the cells' function. So far, Ingber and his team at the Wyss Institute have developed more than 15 organ chip models, including chips that mimic the lung, intestine, kidney, and bone marrow.
The idea to develop a vagina chip grew out of research, funded by the Gates Foundation, on a childhood disease called environmental enteric dysfunction, an intestinal disease most commonly found in low-resource nations that is the second leading cause of death in children under 5. That's when Ingber discovered just how much the child's microbiome influences this disease.
The vagina chip could help scientists find new treatments for bacterial vaginosis, vaginal yeast infection (candidiasis), chlamydia, and endometriosis.
"Women's reproductive health has been under-resourced, under-prioritized, and largely disregarded for decades," she says. And the time may be ripe for change: Mitchell says she was encouraged by the National Institutes of Health's Advancing NIH Research on the Health of Women conference, held in 2021 in response to a congressional request to address women's health research efforts.
Beyond bacterial vaginosis, Mitchell imagines the chip could help scientists find new treatments for vaginal yeast infection (candidiasis), chlamydia, and endometriosis. As with bacterial vaginosis, medicines for vaginal yeast infections have not advanced in decades, Mitchell says. Efforts to develop a vaccine for chlamydia — which can cause permanent damage to a woman's reproductive system — have dragged on for many years. And endometriosis, an often painful condition in which the tissue that makes up the uterine lining grows outside the uterus, remains under-researched despite affecting 10% of childbearing-age women.
While some mouse models are used in chlamydia research, it's hard to say if they'll translate to humans, given the vaginal and cervical bacterial differences.
"Our understanding of the basic physiology of the environment of the vagina and cervix is another area where we're woefully ignorant," Mitchell says.
To that end, Ingber's team is developing more complex chips mimicking the vagina and the cervix. One of his team members wants to use the chips to study infertility. The researchers have already used the chips to see how bacterial vaginosis and mucous changes impact the way sperm migrates up the reproductive tract.
The lab is now linking vagina and cervix chips together to study viral infections of the cervix, like HPV, and all types of bacterial diseases of the vaginal tract. By applying cervical mucus to the vagina chip, they hope to learn more about how female reproductive tissues respond to infection and inflammation.
"I always say that organ chips are like synthetic biology at the cell tissue and organ level," says Ingber. "You start simple and see if you [can] mimic a clinical situation."
As they make the chips more complex — perhaps by adding blood vessel cells and female hormones — Ingber foresees being able to study the response to hormonal changes during the menstrual cycle.
"We can begin to explore the effects of cycling over time as well as other types of hormonal effects," he says.
Ingber also envisions linking the vagina chip to other organ chips — he's already succeeded in linking eight different organ types together. But for now, the team hopes the vagina chip will enhance our understanding of basic female reproductive biology and speed up the process of developing new treatments for women's health.
Sources:
Microbiome: "Vaginal microbiome-host interactions modeled in a human vagina-on-a-chip."
Don Ingber, MD, PhD, founding director, Wyss Institute for Biologically Inspired Engineering, Harvard University.
Caroline Mitchell, MD, MPH, OB/GYN, Massachusetts General Hospital.
Credits
Images: Wyss Institute at Harvard University
WebMD Health News © 2023
Source Article: https://www.medscape.com/viewarticle/988097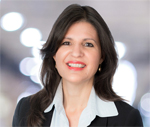 Associate Professor Magdalena Simonis AM is the President of the AFMW (2020-) and former President of VMWS (2013 & 2017-2020). She is a full time clinician who also holds positions on several not for profit organisations, driven by her passion for bridging gaps across the health sector. She is a leading women's health expert, keynote speaker, climate change and gender equity advocate and government advisor.
Magdalena was awarded a lifetime membership of the RACGP for her contributions which include past chair of Women in General Practice, longstanding contribution to the RACGP Expert Committee Quality Care, the RACGP eHealth Expert Committee. She is regularly invited to comment on primary care research though mainstream and medical media and contributes articles on various health issues through newsGP and other publications.
Magdalena has represented the RACGP at senate enquiries and has worked on several National Health Framework reviews. She is author of the RACGP Guide on Female Genital Cosmetic Surgery and co-reviewer of the RACGP Red Book Women's Health Chapter, and reviewer of the RACGP White book
Both an RACGP examiner and University examiner, she undertakes general practice research and is a GP Educator with the Safer Families Centre of Research Excellence, which develops education tools to assist the primary care sector identify, respond to and manage family violence . Roles outside of RACGP include the Strategy and Policy Committee for Breast Cancer Network Australia, Board Director of the Melbourne University Teaching Health Clinics and the elected GP representative to the AMA Federal Council. In 2022. she was award the AMA (Vic) Patrick Pritzwald-Steggman Award 2022, which celebrates a doctor who has made an exceptional contribution to the wellbeing of their colleagues and the community and was listed as Women's Agenda 2022 finalist for Emerging Leader in Health.
Magdalena has presented at the United Nations as part of the Australian Assembly and was appointed the Australian representative to the World Health Organisation, World Assembly on COVID 19, by the Medical Women's International Association (MWIA) in 2021. In 2023, A/Professor Simonis was included on the King's COVID-19 Champion's list and was also awarded a Member (AM) in the General Division for significant service to medicine through a range of roles and to women's health.