In this inSight+ article Dr Sidney Chandrasiri, Deputy Chief Medical Officer of Epworth HealthCare in Melbourne writes  how tall poppy syndrome and unconscious rivalry from female leaders in more senior roles are two facets that are often unacknowledged.
---
'Tall poppies: navigating gender bias as a woman in medicine'
Tall poppy syndrome and unconscious rivalry from female leaders in more senior roles are two facets that are often unacknowledged when exploring the broader issue of barriers facing women in health care leadership, writes Dr Sidney Chandrasiri, Deputy Chief Medical Officer of Epworth HealthCare in Melbourne.
Barriers to women in medicine attaining leadership positions have included a host of explanations.
Everything from implicit gender bias to inflexible organisational policies (here) is raised, but a host of additional barriers may remain unaddressed.
These barriers are often not talked about, as they understandably do not sit well with common thinking.
Published literature, anecdotal evidence and specific experiences shared with me by colleagues have made it clearly apparent that issues such as tall poppy syndrome and unconscious rivalry from female leaders in more senior roles exists in Australian health care today.
This is particularly glaring when examining the issue of professional rivalries that exist between female health care leaders (often within the same organisation), and those that exist between leaders with and without clinical backgrounds. These leaders often may display territorial tendencies to relegate medical leaders to remain within their own "swim lanes", for example, to only concern themselves with "managing the doctors".
Studies focussing on gender and workplace incivility have revealed that women leaders were actually 5–9% more likely to experience incivility from other women than from men. Researchers found that women who were assertive, took charge, delegated or spoke up — behaviours we would normally view as being characteristic of good leadership — were more vulnerable to rudeness from female colleagues.
My own experiences of this are relatable to occasions of being told I "speak up too much in meetings" and of being excluded from committees that would allow for additional professional development beyond my direct portfolio. Other female medical colleagues have relayed experiences of being passed over for promotion despite being more qualified, being discouraged from taking up leadership positions, having had to give up their operating theatres to male surgeons, and having had their diagnostic expertise or professional credibility unnecessarily questioned.
These largely unconscious biases and hidden professional female rivalries may have far more devastating consequences than intended. They may result in career obstruction (or sabotage in more extreme cases) of emerging female leaders and can have a toxic effect on organisational culture, leading to reduced productivity, lower profitability and high rates of employee psychological ill health.
Progress and setbacks
The issue of organisational barriers to women in health care leadership have now gained national prominence, with an National Health and Medical Research Council funding grant being issued for a multi-institutional research study.
The study looks at organisational strategies that increase the capacity, credibility and capability of women to advance women in health care leadership.
Unfortunately, it has been the experience of myself and my medical colleagues that many hospital leaders are often reluctant to even acknowledge the existence of gender bias, unconscious or not, let alone have the capacity or willingness to consider the more nuanced dynamics of this complex issue.
Reflecting on a previous interesting incident, I recall being actively discouraged from asking a cohort of female surgeons about their experiences of gender bias in their clinical practice.
Despite being discouraged, I nevertheless raised the issue, as I knew it was the right thing to do. Almost every one of those female surgeons subsequently thanked me after they spoke up with many personal examples of how unconscious gender bias was affecting their day-to-day clinical practice.
From that point, a genuine and authentic discussion on dealing with the real issues followed, and garnered cohesive engagement between all who were involved. Although resulting in a good outcome, this was a very sobering realisation for me on just how far we are from truly addressing these problems.
In 2023, it is inconceivable that both health organisations and health care leaders across Australia, may not be heeding the multitude of evidence that calls for immediate action to support female leaders in the workplace and, thereby, to increase productivity for the company.
Instead, many successful professional women and emerging medical leaders continue to be exposed to this harmful and often toxic organisational culture.
Tall poppy syndrome
In the context of barriers to health care leadership, tall poppy syndrome is a phenomenon that can have damaging effects on both female and male emerging leaders.
In Australian workplaces, tall poppy syndrome has been identified as a serious human resources issue, where "cutting down the tallest poppy" is used to describe those who deliberately put down or obstruct the career progression of another, owing to a sense of envy and perception of threat to their own success.
In 2018, a Canadian study, The tallest poppy: successful women pay a high price for success, by Dr Rumeet Billan found that:
87.3% of professional women were undermined by colleagues or superiors because of their achievements;
60.3% felt the need to downplay or not share their achievements; and
more than 81% experienced hostility, were ostracised or excluded from further opportunities at their workplace.
The study further found that tall poppy syndrome led to decreased productivity and destroyed morale, leading to withdrawal, self-doubt, depression and anxiety in those affected, most commonly women.
Human resources professionals have identified tall poppy syndrome as a serious issue affecting employee mental health, satisfaction and retention, and that it significantly contributes to a toxic workplace culture. In turn, a toxic culture is likely to further increase the prevalence and severity of tall poppy syndrome.
Tall poppy syndrome continues to pervade most health care organisations, often unaddressed by executive teams and senior leaders, or alarmingly even being perpetuated by those who hold powerful and influential positions — particularly as medical practitioners are increasingly moving into leadership roles that have traditionally been held by health care leaders who do not have medical backgrounds.
While one would like to think that this type of unacceptable leadership behaviour is mostly unconsciously perpetrated, it does not reduce the urgency with which it must be addressed.
All of us in leadership positions, whether emerging or established, should open our eyes to this reality and take steps to eradicate it where possible.
Drawing on my experience and research by Dr Billan, I propose the following steps as an approach to this issue that organisations could consider in addressing the toxicity of a potential tall poppy culture:
conducting awareness campaigns among executives and leaders to understand what tall poppy syndrome is and how it can affect the organisation, and encouraging self-reflection in relation to their motivations or recent actions;
establishing clear and genuine commitments to facilitating professional development opportunities across the organisation;
enabling high achieving employees career advancement prospects by facilitating their requests for gaining additional skills or further training, even if outside their direct portfolios;
developing clear and genuine leadership development programs, mentorships, and succession planning;
encouraging junior leaders of the organisation to speak up if they are feeling professionally obstructed, unheard or undervalued;
taking an authentic and direct approach in asking about job satisfaction in direct reports, such as whether their requests for professional development are facilitated by the organisation, and whether their offers to take on extra projects or gain skills in areas outside their prescribed portfolios are accepted;
encouraging leaders to actively listen to and address or improve any areas of concern that are raised;
developing self-confidence and professional capabilities of executive leaders themselves to help curb any resentment or insecurity that may unconsciously arise when dealing with high achieving junior employees and other direct reports; and
recognising, acknowledging, and celebrating the successes and achievements of employees and emerging leaders, particularly those who are achieving beyond expectations, throughout the organisation.
This approach is supported by Dr Billan, who shed light on to the phenomenon of the tall poppy syndrome, as it recommends three ways in which to combat it:
training and development;
speaking up if you see it happening to someone at your organisation.
It is an unfortunate reality that even in the health care context, perhaps the only industry where the majority of the workforce is female, barriers to female doctors attaining leadership positions are still alive and well, and "despite decades of gender parity in medical school admissions, under-representation of women in senior medical leadership positions [still persist]."
In Australia, only 30% of deans, chief medical officers or college medical board members are women, and only 12.5% of large hospital chief executive officers are women.
The Workplace Gender Equality Agency's 2022 Scorecard on the state of gender equality in Australia further shows that women continue to be under-represented in leadership positions, and that in every single industry, the gender pay gap continues to favour men.
The complexities of this issue are broad, nuanced and far reaching. In health care, the inherent tendency of "not wanting to upset the apple cart" or fears of retribution for raising concerns around tall poppy syndrome or any other barriers continue to make it extremely difficult to be addressed.
As with most difficult things though, the first steps towards culture improvement must often be taken with some degree of daring and courage.
The fundamental ambition as leaders, to try our very best to right the wrongs we see, one incident at a time, is how we can create authentic and lasting change.
Dr Sidney Chandrasiri is the Deputy Chief Medical Officer and Group Director of Operations within Academic and Medical Services at Epworth HealthCare, a Fellow of the Royal Australasian College of Medical Administrators (FRACMA), a Fellow of the Australasian College of Health Service Management (FCHSM), and a Graduate of the Australian Institute of Company Directors (GAICD).
SIDNEY CHANDRASIRI
(article and photo credit – inSight+)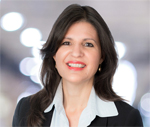 Magdalena is the President of the AFMW (2020-) and former President of VMWS (2013 & 2017-2020). She is a leading women's health expert, keynote speaker, climate change and gender equity advocate, government advisor and holds positions on several not for profit organisations bridging gaps across the health sector.
Magdalena's deep engagements with the RACGP over many years includes chair of Women in General Practice, is currently on the RACGP Expert Committee Quality Care, prior to that on RACGP eHealth Expert Committee. She is a regular media spokesperson on numerous health issues, being interviewed most weeks by mainstream and medical media. Magdalena has represented the RACGP at senate enquiries and has worked on several National Health Framework reviews, author of the RACGP Guide on Female Genital Cosmetic Surgery and co-reviewer of the RACGP Red Book Women's Health Chapter.
Both an RACGP examiner and University examiner she supervises medical students and undertakes general practice research and is a GP Educator. Roles outside of RACGP include the Strategy and Policy Committee for Breast Cancer Network Australia, Board Director of the Melbourne University Teaching Health Clinics and the elected GP representative to the AMA Federal Council.
Magdalena has presented at the United Nations as part of the Australian Assembly and was recently appointed the Australian representative to the World Health Organisation, World Assembly on COVID 19, by the Medical Women's International Association (MWIA).
A/Professor Simonis was a member of the National COVID-19 Taskforce expert committee which will lead into the development of the Australian CDC.